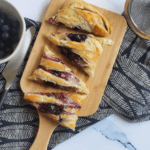 Print
Blueberry Strudel
Materials
8

oz

Cream Cheese

1/4

cup

granulatedsugar

1

egg

1/2

tsp

vanillaextract

1

tbs

lemon zest

3/4

cup

blueberriesfresh or frozen

(about3.5 ounces or 100 g)

3

tbs

La Vieja Fabrica Blueberry fruit spread

1

puff pastry sheet

1

beaten egg for egg wash
Instructions
1.Preheat oven to 350degrees F.

2. Using 8 hand-heldmixer, beat cream cheese, granulated sugar, egg, vanilla

extract and lemonzest until well combined and creamy. In 8 medium sized bowl,

gently stir theblueberries and blueberry fruit spread together.

3. Unroll the puffpastry. Make an equal number of 2 inch wide and 2 inch long

cuts along both longsides. Spread the filling down the middle of the pastry.

Distribute theblueberry filling. Fold one end of pastry over the filling. Fold the

pastry strips diagonallyover the filling, alternating left and right and fold end over

before altern8ting lasttwo strips. Brush beaten egg over strudel. Bake for about

30minutes, until the strudel is browned and the filling is set.
Video
Notes
https://laviejafabricaus.com/wp-content/uploads/2021/07/Blueberry-Strudel.mp4