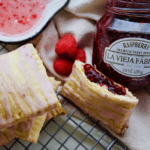 Print
Homemade Raspberry Toaster Pastries
Materials
2

cups

all- purpose flour

1

tbsp

sugar

1

tsp

salt

1

cup

cold unsalted butter

cut into cubes

1

large

egg

1

large

egg white

2

tbsp

milk

1/2

cup

fruit La Vieja Fabrica Raspberry Jelly

For Glaze

1

cup

confectioners sugar

1

tbsp

raspberry jelly

2

tbsp

milk
Instructions
In a medium bowl, combine flour,sugarand salt. Using a pasty blender, work in the butter to formcrumbles. Wisk together egg and milk; stir into flour mixture with a fork until dough forms a ball. Divide in hlf and shape into disc; wrap tightly in plastic wrap and refrigerate for at least 30 minutes.

preheat oven to 350 degrees. Remove dough from fridge and allow it to soften 10 to 15 minutes on counter. Roll out on a lightly floured work surface to a rectangle about 1/8th' thick. Using a pizza cutter, cut into nine 3 by 4 inch rectangles. Arrange on a baking sheet lined with parchment paper.

Beat egg white with a splash water, and brush it aroundthe edge of each rectangle. Place a heaping tablespoon of filling into the center of each.

Roll and cut the second piece of dough just as you did the first. Top each filled pastry with a second rectangle of dough, using your fingertips, press firmly around all sides and crimp edges with a fork or a ravioli cutter to seal.

Prick the top of each tart with a fork to allow the steam to secape with backing. Freeze for 10 mintues, then bake for 25 to 35 minutes or until light golden brown. Remove them from the oven, and allow them to cool completely before glazing.

To prepare glaze, whisk together confectioners sugar, jelly and milk and stir until it just flows off a spoon. Spread or drizzle onto cooled pastries.